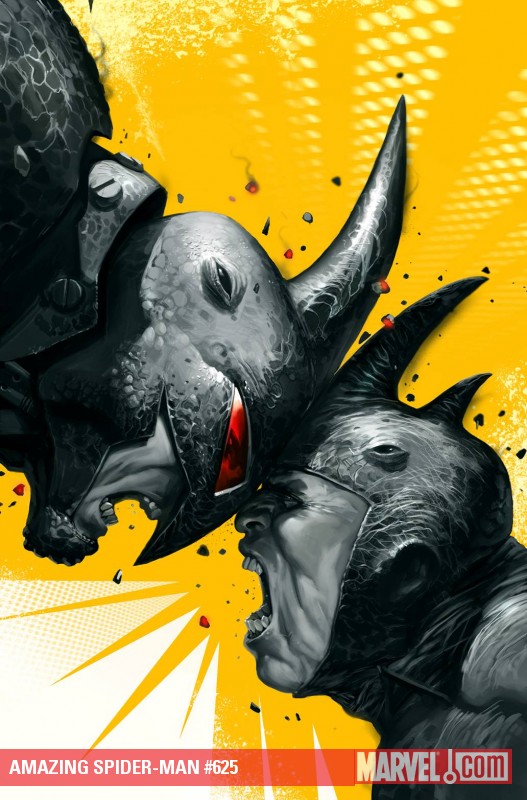 Man. This thing was just a punch to the gut.
The IGN review summed this issue up best:
"If we're truly to believe The Gauntlet's mission statement is to revamp Spider-Man's rogue's gallery in exciting ways, then Joe Kelly might be the only member of the Spidey Braintrust following through on that promise. Amazing Spider-Man #617, one of the best Spidey issues in years, saw Kelly and Max Fiumara masterfully transform Aleksei Systsevich, the original Rhino, into a fully realized, sympathetic character while introducing a deadlier version of the villain. The two return to Aleksei in Amazing Spider-Man #625, finishing what they started by positioning him as a deeply tragic villain. Again, the result makes for one of the best Spider-Man comics in ages."
I mean, its one thing to say you are gonna make villains all exciting and modern, but in the end, there isn't much new to them that really makes unique (see The New Vulture). And while Sandman and Electro received some upgrades in their mental baggage, its Rhino that received a massive upgrade to his soul.
I'm a sucker for tragic hero stories especially if the main focus is that of a villain or reformed villain (see Mike Carey's Lucifer) and god...is this a beautifully executed tragic hero storyline for Rhino. Definitely read issue #617 first because this issue just really sends it home.
I don't want to spoil anything but the two issue arc revolves around reformed Spidey villain, Aleksei Systsevich (aka - the Rhino), who is trying to live an innocent life but is forced back into the life of the Rhino when a new and improved Rhino emerges on the scene wishing to battle Aleksei for the mantle of The Rhino. Honestly, this almost reminds me of the graphic novel/movie, A History of Violence, involving a man's torrid past catching up to him when he is attempting to redeem himself.
There are parts that are predictable, but man...the ending has a nice twist.
Do yourself a favor and pick up both of these issues. Best Spider-Man story I have read since the 9/11 issue.

_________________


NEW ISSUE YIBR EVERY SATURDAY AFTERNOON!!!


Sig designed by Kakeh




Random YIBR Listener wrote:

Screw Mongo's voice, I want to sex Beeslo up!